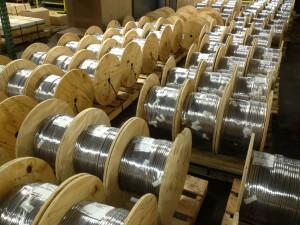 Lead wire is used in several applications; but today it's used most in the ammunition market.
This lead wire is produced by an extrusion press to a specific diameter typically placed on spools or drums. The lead wire is then cut into cores, which are simply lengths of wire cut to a specific length. These lead cores are then feed into a cold heading machine where the cut core is then formed (swagged or cold headed) into a formed lead core.
At this point, the lead core looks like the shape of a bullet without the copper jacket or copper plating. The copper jacket follows a similar forming process and then the lead and copper are fed together into a swagging press where a finished bullet is produced.
Vulcan GMS has five extrusion presses capable of producing lead wire. We can provide any wire size and nearly any alloy needed for ammunition / bullet production.
Vulcan GMS is also proud of our brand new extrusion press which provides additional capacity to that department. Lead wire is key to the ammunition industry and Vulcan has been at the forefront of these demands in the industry.
In addition to lead wire, Vulcan can also offer other materials or services for our customers including lead bullets, cut cores, swagged lead cores, shot gun slugs, etc. We have also taken or developed machines for customers to allow us to produce other products to help offload or take over those materials that may be problematic such as buckshot, core cutting, tumbling, etc.
Please contact Vulcan GMS to review your lead wire needs or any other bullet / ammunition lead components. We have been working around the clock to help supply these materials to the ammunition industry over the the last few years and, with our new equipment and capabilities, we are looking to fill capacity with new applications of any size. Vulcan GMS is a custom manufacturer so we can supply low and high volume needs. Please contact us to review your needs.