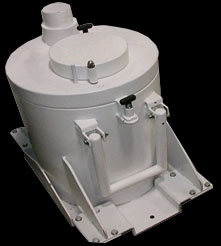 Vulcan GMS can design and build many different types of shielding products and systems. We listen to your needs and we can work with you to design a solution that best fits your specifications.
For these types of products, we can offer several materials including lead, tungsten, molybdenum, tin, bismuth, high density plastics, stainless steel, brass, etc. We can also develop a shield using a hybrid (or alloy) of multiple materials to fit your functional and cosmetic needs. These are made from combinations of tungsten, lead and stainless steel in shields & shipping systems. In regards to shipping systems, Vulcan GMS can offer the pig alone or a fully certified shipping package meeting DOT Type A requirements.
Custom solutions include:
Decay bins
Waste containment drums & waste bunkers
Shipping systems, shipping packages, transport pigs
Seed shielding, shipping packages, handling solutions (lead, plastic, stainless, etc)
Syringe shields
I-131 waste shields, bins, shipping pigs
Beta shields
Hood shielding, work stations, l-blocks
Leaded glass
Centrifuge shielding
Vial shields
Shipping & transport casks, storage casks, waste casks
Please contact us today to find out how we can help you with your custom nuclear solution needs.