Router Cutting
Vulcan GMS has two CNC routers with 5 foot by 8 foot vacuum tables. These routers allow us to machine sheet product in a CNC fashion holding good dimensional tolerances across a part or sheet.
Sheet material is vacuum lifted and then vacuumed down to lock it into place on the router table. These routers have the full tool changer option giving it the agility to face plate or machine fine detail in four axis; unlike laser or water jet. These routers can make step joints or other features without plunging all the way through the material, which is ideal for radiation shielding applications.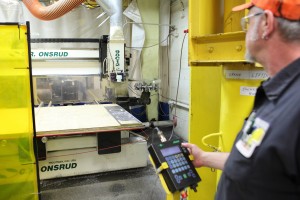 Vulcan can router cut several materials including lead, tin, bismuth, aluminum and plastics. We stock over 20 different sizes of lead material which can be used in router cutting, die cutting and lead lining.
Contact Vulcan to discuss these stock thicknesses and the achievable tolerances. Vulcan can also face cut these materials down to material thickness other than stock sizes if required.
Read more about how Vulcan has doubled the capacity for plate and sheet machined products through the use of CNC routers.