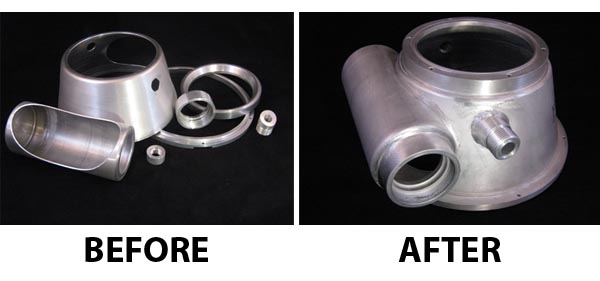 Assembly
Vulcan GMS can certainly help you with your specific component needs. We are capable of assisting you in the design and reviewing multiple options for that design.
What you may not know is that Vulcan GMS is also capable of offering higher level sub assemblies. Many of our assemblies begin with a component that works its way up to provide the next higher level assembly.
This is why we can offer both primary and secondary materials; with the primary being traditional such as lead, tungsten, moly, etc and the secondary (such as aluminum and brass), for higher level assemblies. Vulcan has full machining capabilities in house and in our factory in China. Please contact us so that we can help you with your assembly needs.
Kitting
Vulcan offers our customers many solutions in product kitting. What does this mean?
There are many different part numbers in an assembly. By offering our customers product kits we can reduce your vendors, purchase orders issued, inspection, receipts, payables, tracking, overhead, personnel, shipping costs and more which saves you both money and time. If you have 30 parts in an assembly, think about all the costs to track those 30 parts. With our help, these 30 different part numbers can be given a single kit part number and we can then supply you with the complete kit.
Vulcan can produce products in many different ways and also can offer many solutions and materials to solve your sourcing problems. For products we cannot produce in-house or for those that are off-the-shelf products, we can source these types of materials to offer a turnkey kit solution to fit your needs. Please contact us to discuss what we can do for you.