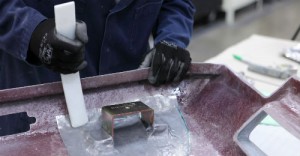 Lead lining is the process of applying lead to sheet metal, plastics or castings. Vulcan GMS uses a variety of contact cements and epoxies based on the application.
Lead can be saw cut, router cut or die cut to produce the lead blank needed for the application. We can use other processes like spinning or forming to generate the needed profiles.
Vulcan can apply the sheets or shapes with pressure if needed to ensure a solid bond or expansion. We can also use a variety of techniques to ensure that there are no joints (overlap joints, stop joints, lead burned joints or corner extrusions) which could cause radiation leaks.
We also can lead line nearly any application for products such as X-Ray tube housing, X-Ray tunnels, X-Ray tanks and collimators, which are all typically used in the medical X-ray and security markets.
See related processes