Custom Nuclear Solutions
Vulcan GMS can design and build many different types of shielding products and systems. We listen to your needs and we can work with you to design a solution that best fits your specifications.
For these types of products, we can offer several materials including lead, tungsten, molybdenum, tin, bismuth, high-density plastics, stainless steel, brass, etc. We can also develop a shield using a hybrid (or alloy) of multiple materials to fit your functional and cosmetic needs. These are made from combinations of tungsten, lead and stainless steel in shields & shipping systems. In regards to shipping systems, Vulcan GMS can offer the pig alone or a fully certified shipping package meeting DOT Type A requirements.
Custom solutions include:
Decay bins
Waste containment drums & waste bunkers
Shipping systems, shipping packages, transport pigs
Seed shielding, shipping packages, handling solutions (lead, plastic, stainless, etc)
Syringe shields
I-131 waste shields, bins, shipping pigs
Beta shields
Hood shielding, workstations, l-blocks
Leaded glass
Centrifuge shielding
Vial shields
Shipping & transport casks, storage casks, waste casks
Please contact us today to find out how we can help you with your custom nuclear solution needs.
Standard Nuclear Solutions
Vulcan GMS has developed many standard nuclear solutions over the years which we can offer our customers. Although we do not stock any of these products, we can offer quotes for them made to order. These types of products include:
Vial Shields
I-131 Shipping pigs & systems (DOT certified to type A requirements)
Decay Bins
I-131 storage bins
Etc.
DOT Type A Radioactive Package Design
Vulcan GMS can help with your requirements for shipping pigs and certified shipping systems. Vulcan has designed and certified many of our own packaging designs as well as specific customer owned pigs & systems.
Vulcan will work with you to clearly understand all aspects of the pig and its uses which includes the use of the system at your site, your customer's site and in transport.
All aspects of the pig and systems use need to be considered to offer your customers the most functional shipping system and pig possible. When your customers receive a radioactive shipment the package and the pig are the first items seen and serve key functional aspects of how your material is handled with your customers.
Contact us today to find out how we can help provide your best first impression with our custom shipping pigs.
Nuclear Casks & Transport Casks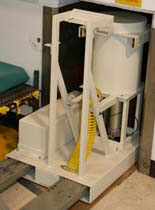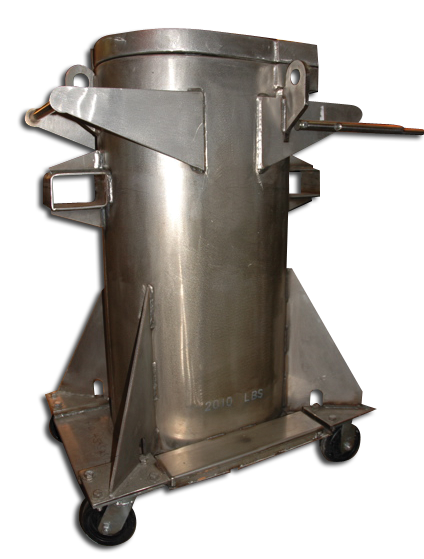 Nuclear transport casks from Vulcan GMS are customized to meet your exact specifications for radiation shielding. You can ensure that our transport casks provide the radiation protection and options that are needed to protect you and your workers.
In addition being able to provide custom designed and manufactured nuclear casks Vulcan also offers lead pours.  In some applications, our customers will fabricate the steel enclosures and need a source to provide a lead pour.
Vulcan can provide lead pours on nuclear casks as well as:
Water weight testing which allows a check of theoretical weight to actual weights
Heat treating to control temperatures during pre-heat, pouring, cool down
Gamma scanning & x-ray scanning
Please view our pouring page for more details.
Contact Vulcan GMS and our engineering staff to discuss your needs.