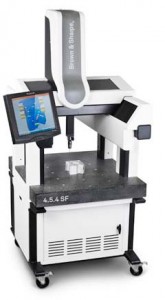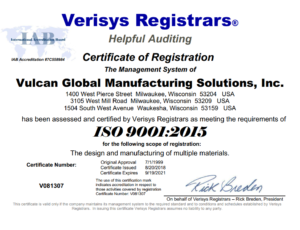 Quality is a fundamental part of the Vulcan GMS organization and we take that seriously. You do not become an industry leader by taking quality lightly. From start to finish, quality is the key element in our processes.
In 1997, Vulcan began to see the importance of ISO and pursued certification. During this time, Vulcan aided ISO to develop the standard for the non-ferrous industry because it had not been clearly defined previously. In 1999, Vulcan GMS became the first non-ferrous foundry in the U.S. to become ISO certified. In 2007, Vulcan saw the need to update our ISO program to the latest ISO standards that were coming out and in 2008 became registered to these new standards. Vulcan continues to put quality as a top priority for our customers.
Vulcan has a wide variety of quality equipment; from manual tools to coordinate measuring machines (CMMs). In 2013, Vulcan purchased a brand new CMM and upgraded the software on all CMMs to provide a universal platform and improve programming time. Vulcan is focused on quality and continues to invest in this area.
Below is an equipment list of the major pieces of quality equipment at Vulcan GMS.
Sheffield Discovery CMM D-8 (20″ x 24″ x 16″)
Sheffield Discovery CMM D-8 (20″ x 24″ x 16″)
Sheffield Discovery CMM D12 (20″ x 36″ x 16″)
Sheffield 4.5.4 SF CMM (14″ x 20″ x 14″)
Varian Model 979 Helium Leak detector
Spectro SpectroMaxx Spectrometer for material analysis
Gauge track monitoring software for calibration with more than 100 tools in controlled circulation at Vulcan
Fully certified ISO program
ISO program contains all the key elements of any ISO program including; preventative action, corrective action, vendor approval and selection, documentation control, etc.