Lead Foil, Lead Sheet, Lead Brick, Lead Ingot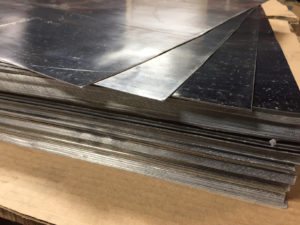 Lead Sheet
Vulcan GMS offers a wide range of lead sheet sizes and thicknesses. Lead sheet typically refers to any sheet that is .020″ or greater in thickness. We offer sheet products up to 1 inch, although custom products can be made thicker if needed. There are also different options for alloys in sheet using antimony. Vulcan stocks a few hundred thousand pounds of lead sheet, plate, and foil at any given time. Lead sheet is available in many sizes and standard stock thicknesses are shown at right for pure lead material. Lead sheet is standard in pure lead or 6% antimony alloy, the antimony adds rigidity for less creep and better performance on a machined product. Pure lead is better for fabricating due to the malleable nature of pure lead. There are many options for length and width, any sizes can be cut for your needs. Any thickness is available – even those not shown at right or thicker than shown – but those may be custom ordered or require additional processing to produce. Please contact us to learn more.

Lead Ingot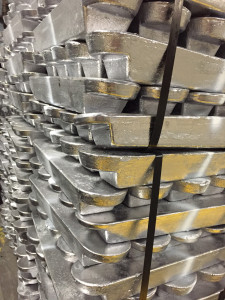 Lead ingots can be supplied in many alloys as seen under our Materials section. Lead ingots also are available in many alloys that we provide or custom pour for your needs. Vulcan can provide these ingots for your needs in full truckload quantities or in individual ingots. We provide any requirements you may have. Vulcan stocks several hundred thousand pounds of lead ingots and raw material. Contact us to learn more.
Lead Foil
Lead foil typica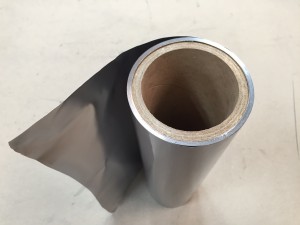 lly refers to any thickness under .020″ and Vulcan can offer thicknesses down to .002″ thick. We have multiple foil thicknesses in stock and can custom make other alloys and sizes as needed. If required, we can also die cut or laminate your material for your application.
Lamination
Vulcan can provide lamination onto sheet product based upon the application's requirements. We can supply PSA (Pressure Sensitive Adhesive) laminations for peel-off adhesion. We also offer different types of coatings such as vinyl to cover the lead. If you require one side vinyl (or similar) and one side adhesive, we can produce a material to suit your needs. If the application requires, we can die cut the final product.
Lead Brick
Vulcan GMS produces lead bricks for many applications. Traditional bricks such as a 2″ x 4″ x 8″ brick have straight edges and can be stacked up to make shields or counterweights. Vulcan casts lead bricks and we can produce them in pure lead or in a lead alloy to best suit your application.
Chevron bricks are bricks with angles or chamfers to create a step into the next brick to provide more shielding at the seams between bricks. Vulcan can cast, extrude or CNC router cut these bricks based on your specific needs.
Vulcan can also provide paint and powder coatings for these bricks to reduce contact with the raw lead. There are many coatings to choose from and when we discuss your needs we can suggest a solution to meet your application.