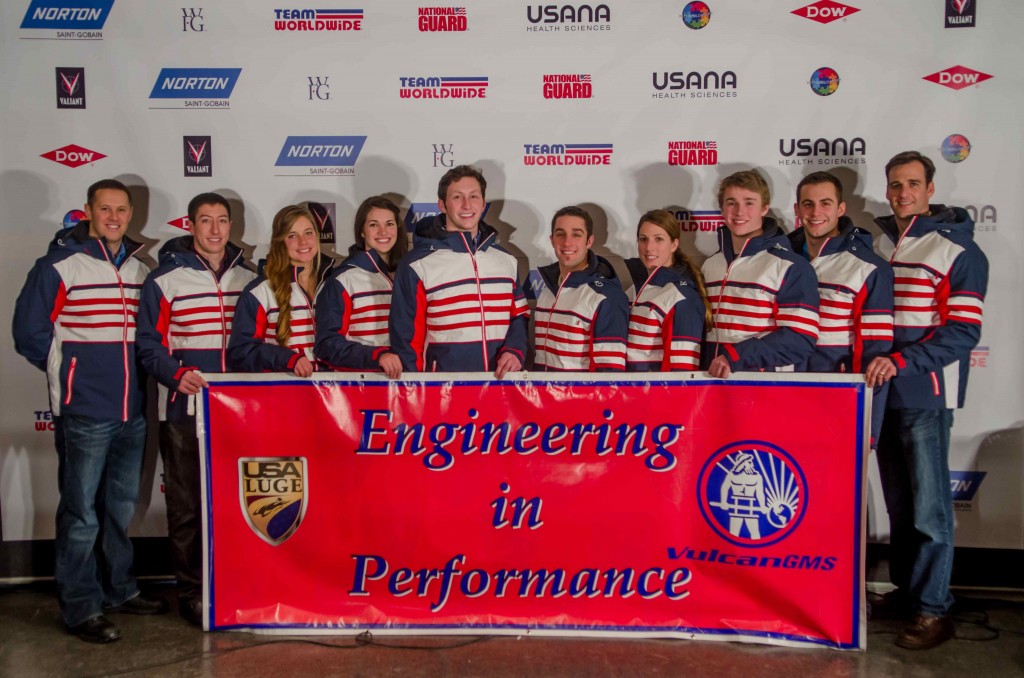 During the last 20 years, Vulcan GMS has been the exclusive supplier of aerodynamic lead weights to the U.S. Olympic luge team. Our weights have been used in every Olympic competition since 1994 in Lillehammer, Norway.
Luge is the fastest sport on ice; reaching speeds over 80 mph. In the Olympics, it is the only sport timed to one thousand of a second. The athletes compete on sleds controlled only with imperceptible movements of their body. The team is made up of men, women and doubles teams. Being a gravity sport, the heavier you are the faster you go. This is where Vulcan helps the U.S. team.
According to Olympic rules, the lugers are allowed to wear lead weights to bring them up to the maximum weight limit. Vulcan's aerodynamic lead weights are sewn into vests and shorts worn under the team members' fitting speed suits. In 1998 in Nagano, Japan, the U.S. team won the first Olympic medals in this sport using Vulcan's aerodynamic lead weights.
The sport of luge
Luge is all about speed, and the fastest time down the track wins. Once the sliders weigh in, the rest is muscle, experience, skill and communication. Communication you ask? In doubles, one slider sits on top of the other on the same sled. The slider on the top can see the track but cannot steer while the slider on the bottom can steer but cannot see the track. This is a partnership of trust and communication through body language and movements to navigate the fastest path down the track. That is what makes the difference between winning medals or not.
How you can support the U.S. Olympic luge team
Besides supplying aerodynamic lead weights, Vulcan also is a major sponsor of the U.S. Olympic luge team. Vulcan also continues to support through the Olympic's Adopt an Athlete Program.
The 2014 winter Olympics are coming up and will held in Sochi, Russia, this year and the luge will be competing February 8-13. You can view the U.S. Olympic luge team's schedule to see each day's events. On the site, you will be able to enter your zip code to see which local channel will be showing the events.
The Vulcan GMS family hopes you will support the U.S. Olympic luge team by tuning in to the coverage as they slide for the gold.