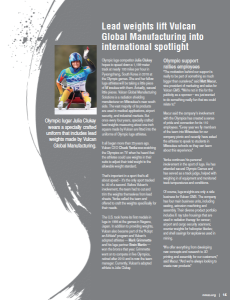 Vulcan GMS is once again in the news for our continued support of the United States Olympic luge team.
The Metropolitan Milwaukee Association of Commerce (MMAC) publishes a quarterly newsletter called Milwaukee Commerce. In its summer edition for 2015, Vulcan's lead weights which are inserted into each luge team member's uniform were featured. The article was entitled "Lead Weights Lift Vulcan Global Manufacturing into International Spotlight."
According to Olympic rules, the lugers are allowed to wear lead weights to bring them up to the maximum weight limit. Vulcan's aerodynamic lead weights are sewn into vests and shorts worn under the team members' fitted speed suits.
Vulcan GMS has been the exclusive supplier of aerodynamic lead weights to the U.S. Olympic luge team for the past 20 years. Our weights were first used in the 1994 Olympics in Lillehammer, Norway. They'll be used next in Pyeongchang, South Korea for the 2018 Olympic games.
Vulcan is proud to be a continued supporter of the U.S. luge team and the Olympic games.
Find out more
Click on the image above or here to view the article as it appeared in Milwaukee Commerce.
Read just the text of the Milwaukee Commerce article.
View the entire summer edition of the Milwaukee Commerce.
Find out more about Vulcan GMS and its support of the U.S. Olympic luge team.