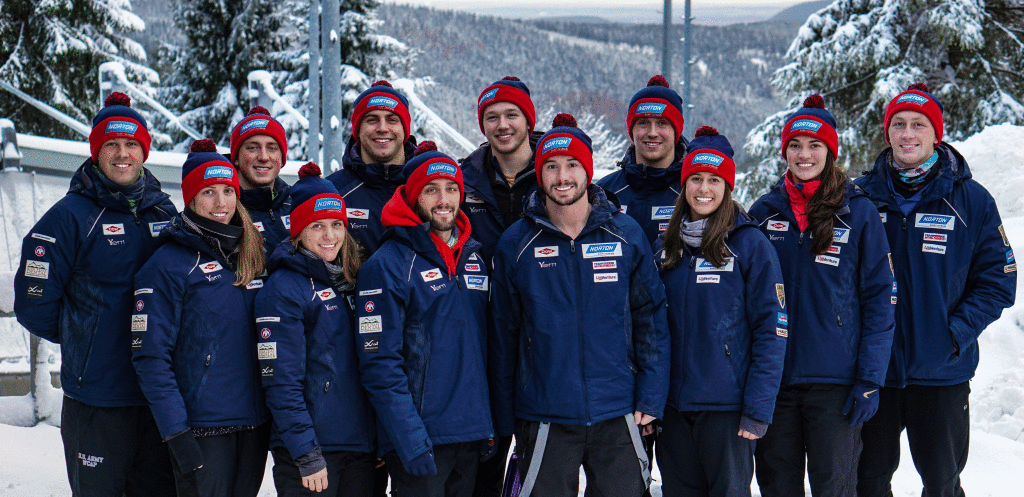 We are pleased to announce that Vulcan GMS owners Chuck Yanke and his wife Sandy Yanke have been awarded the 2015 Sam Venezia Volunteer Spirit Award by the U.S. Olympic Team. The announcement was made at the USA Luge Assembly on Aug. 22, 2015, in Lake Placid, N.Y. The pair were nominated by Fred Zimny, head coach of the Olympic luge junior national team.
Long-time luge supporters
The Yankes have a long history with the U.S. Olympic luge program; dating back nearly 30 years. Though owners of a successful and thriving company, they are the type of individuals willing to do even the most menial of jobs to help U.S. luge athletes. However, their contributions to the organization and its athletes have been far from menial.
Their relationship with the USA luge program began back in 1988 in an effort to quench the insatiable appetite for lead required by every luge athlete. From lead squares for weight vests to sheet lead for sleds, their products road with the team on every luge track in the world and at every Olympic Games since Calgary.
The "Yanke gauge"
The Yankes' contributions have had a personal and direct impact on dozens of American athletes over the years; including Olympic medalists and world champions. The customized precision tools made by Vulcan GMS to help tune and dial in racing sleds are second to none in the world. The craftsmanship exudes professionalism – just as their personalities and generosity do.
Vulcan's tool-making abilities have also extended to the officiating side of the sport. The design and construction of three sled measurement gauges used at luge races which have appropriately become known as the "Yanke gauge."
Officially an official
Chuck has been a national and FIL official for nearly 20 years. He also has volunteered as an official at many national and international races; including our own Olympic Games in Salt Lake City in 2002. When not officiating, he attends races simply as a fan of the sport and to support the U.S. team.
Vulcan GMS has been a host to a stop on the national Slider Search program tour and helped introduce luge to dozens of potential new athletes who otherwise would never have an opportunity to experience the sport firsthand.
Always giving
The Yankes have literally opened up their home to members of the luge family when in the Milwaukee area on business or pleasure. They have also supported athletes directly through the Adopt an Athlete program and annual Most Improved Junior awards.
Additionally, Chuck and his company have participated in the USA Luge Sponsor Summit, which brings team sponsors together for a weekend of recognition and thanks to those who are truly the team behind the team.
The Yankes truly embody the spirit of Sam Venezia's selfless dedication and genuine acts of generosity. They are two people who, as it states on the Venezia award plaque are "… always giving, but never asking anything in return."