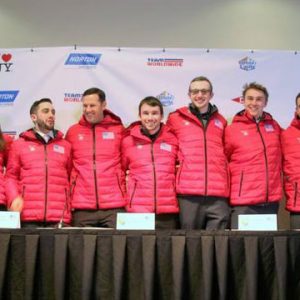 USA Luge and Vulcan GMS – A Heavyweight Partnership for Decade
FEBRUARY 5, 2018 BY CHASE PENDZICH LEAVE A COMMENT
You might not easily see the connection: a global provider of components and assemblies to some of the world's largest equipment companies and a winter Olympic sport that sees sleds and their riders speeding down an icy track at extreme speed. But Vulcan GMS has been a proud supporting partner of USA Luge since 1990, and this relationship will see USA Luge through the PyeongChang Winter Olympics this February and beyond.
It all began more than 25 years ago when Vulcan's own Chuck Yanke was watching the Olympics on TV and reached out to USA Luge. He offered to custom create and manufacture lead weights for athletes to use in their suits. These weights could be used to adjust a slider's total weight to the allowable standard. That's important in a sport that's all about speed – luge is the only sport tracked to one thousandth of a second. In addition, he agreed to provide the specialty weights free of charge.
The team took Yanke up on his offer, and the resulting partnership has lasted for decades. Today, Vulcan GMS not only continues to be the official provider of lead weights to USA Luge, but also sponsors two US Luge members – Emily Sweeney and Brittney Arndt.
What exactly IS Luge?
Luge is the French word for "sled" and, like the bobsled, it was developed as a sport in Switzerland. Its roots go back to the 16th century, but it was not until 300 years later that the first luge tracks were built by Swiss hotel owners to appeal to thrill-seeking tourists.
Luge is one of the oldest winter sports. It involves competitors lying on their backs on a tiny sled with their feet stretched out in front of them, racing down an icy track at speeds exceeding 95 mph – all without brakes. Often referred to as "the fastest sport on ice," sliders use their legs and shoulders to steer the fiberglass sleds down the track. Additionally, the average luge run has a vertical drop of 300 feet! In the first international race of 1883, the race winners reached an average of just 16 mph — which shows what a long way this sport has come. The first international luge race took place in February 1883, and luge was inaugurated as an Olympic sport at the 1964 IX Winter Olympic Games in Innsbruck, Austria.
USA Luge reached the Olympic singles podium in Sochi, Russia in 2014 when 2009 World Champion Erin Hamlin, the most successful singles racer in team history, scored a bronze medal. She was also the first American woman to ever win an Olympic luge medal. The U.S. squad will try to add to their Olympic legacy when the 2018 Olympic Winter Games are held in PyeongChang, South Korea.
A Team Like Family
While in PyeongChang, team USA Luge will continue to enjoy not only the financial backing, but the wholehearted fan support of a 155-employee strong cheering section at Vulcan GMS. The mutual friendship between our two organizations means that Vulcan employees feel a personal connection with USA Luge, and see the sliders we sponsor like family. It's pretty amazing that the world class athletes we cheer for and watch on TV are the same kids that we discovered in slider searches, the same lugers we've hosted as guests in our facilities, and the same Olympians who've held our corporate flag on a mountaintop in Vancouver. As Chuck says, "Being associated with the Olympic team is inspirational for our employees. Getting to know the athletes through our sponsorship and their visits brings us into contact with their competitive spirit. I think a lot of that spirit has rubbed off over the decades and become a very real part of what drives us to be our best."
We'll be following these athletes with a personal connection and a passion for their performance. Luge coverage begins February 8th. Will you be watching?
Find out when to tune in to USA Luge events at the 2018 Winter Olympic Games by clicking the link below.
https://www.teamusa.org/USA-Luge/NEWS/2018/January/29/NBC-Olympic-Broadcast-Schedule
GO TEAM USA LUGE!