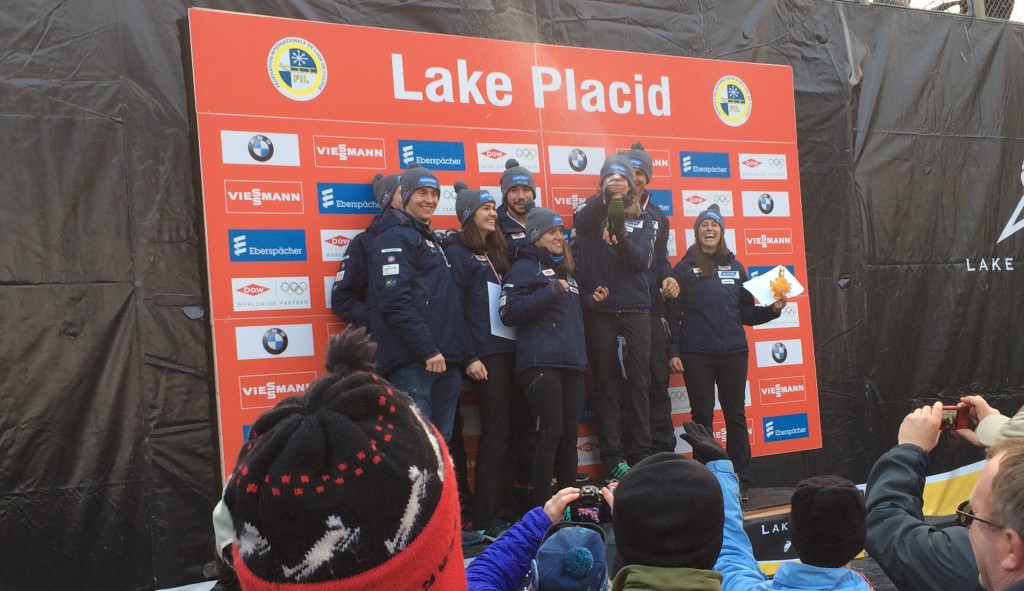 In only the second sweep of a world cup event, the U.S. women's luge singles team proudly earned their place on the podium.
In the first U.S. sweep of a world cup, Erin Hamlin won gold, Emily Sweeney won silver and Summer Britcher won bronze. The three were elated to have accomplished this first-time feat. Hamlin also broke her own track record.
In the day prior to the women's sweep, the U.S. men's singles team won gold and silver medals; setting the stage for the women's victory. The success of the men's and women's teams at the Viessmann Cup is nothing less than exceptional.
Luge is the fastest non-motorized sport in the world; reaching speeds up to 90 miles per hour. This is faster than highway speeds with the only a helmet as safety gear. At this speed, time between turns can be mere seconds and pulling 5 Gs in a corner is no easy task. Luge tracks average 3,300 feet to 5,000 feet in length and are 5 feet wide. In addition to the incredible speeds and G forces, there are no brakes on the sleds. Sliders simply place their feet on the ice and pull up on the sled to slide to a stop.
Most of the challenges in luge are based on the curves of the track. Sliders must plan for their path of entry and manage the turns in such a way that they optimize the speed through them. If a slider is not smooth in the turn, the time is impacted. If a turn is too high or too low, the speed is also impacted. Much like in a professional game of billiards, the shot is only one element; setting up the next shot is the key. In luge, each turn must be negotiated in such a way not to lose speed while perfectly execute the turn to be at the proper place on the track to optimize the entry into the next turn.
Vulcan GMS has been a proud supporter of the U.S. luge team for more than 20 years and we are so proud of the team. There has been great advancement in the team over the last 20 years and to pull off this type of victory at the Viessmann World Cup race truly shows the skill and exceptional performance of the team. To all US Lugers we congratulate you and are honored to be part of this great sport.
Read more about the U.S. luge teams' victory.